Bio-Energetic Evaluation: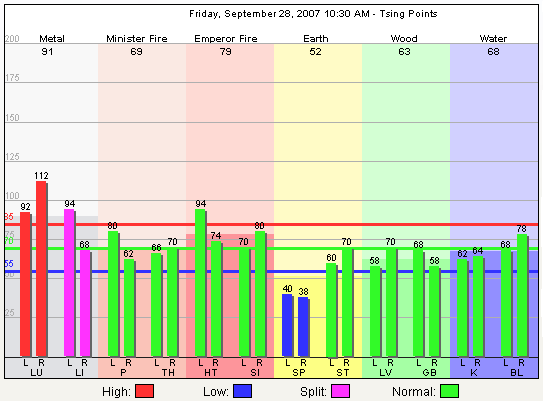 Bio-Energetic is based on Traditional Chinese Medicine and is a way of measuring the supporting organ energies or "meridian Chi".
With the Help of an EAV Device Your Energy or Chi Can Be Measured to Evaluate:
Energetic Weaknesses in Specific Organs
Possible Cause of the Weakness
Similar Energetic Patterns in Family Members
and Much Much More
In the above example we can easily see excess energy in lungs, imbalances in the large intestines and deficiency in the spleen meridian (lymphatic & blood purification issues). We can also see Metal element is the strongest and Earth element is the weakest.
LU = Lung
LI = Large Intestines
P = Paricardium (Circulation)
TH = Triple Warmer (Endocrine System)
HT = Heart
SI = Small Intestine
SP = Spleen (Lymphatic & Blood Purification)
ST = Stomach
LV = Liver
GB = Gall Bladder
K = Kidney
BL = Bladder